Brazilian jiu-jitsu classes in Torrance and Culver City, California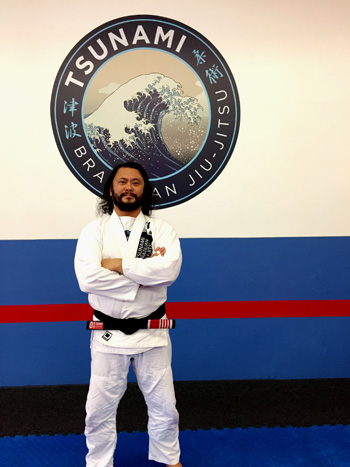 John Veloso Ouano started training in 1994 with his brother-in-law who was then training under Royce Gracie. Soon after, he took formal lessons with Jean-Jacques Machado in Tarzana, CA. In 1995, when Carlson Gracie Sr. moved to Los Angeles and opened his first US academy outside the UCLA campus, John became Carlson's first student at his Carlson Gracie Academy in Westwood (before the academy moved to its temporary facility in the Venice area). Soon afterwards, a larger Carlson Gracie Academy opened up in West Hollywood. Here, John taught with Rodrigo Medeiros, Vitor Belfort, and several more of the world's best black belts.
When Carlson's West Hollywood academy closed, John started teaching with Rodrigo Medeiros at his academy located in uptown Whittier. After a year in Whittier, Rodrigo's academy moved to La Habra, where John continued to teach and where he eventually became Rodrigo Medeiros' first student to be awarded a black belt in December 5, 2002.
In December 2002, John opened New Breed Academy with Johnny Ramirez, a long time student and friend.
John is a 4th degree black belt from Rodrigo Medeiros and is recognized by the IBJJF and USBJJ.
John, along with Rodrigo Medeiros (Pacific Beach, CA) and Julio Fernandez (Burlington, VT), are founders of the BJJ Revolution Team (Carlson Gracie Team), with affiliate schools located across the United States as well as overseas. Teaching at South Bay Jiu-Jitsu on Saturdays (thanks to Bob Bass for the hospitality).
On December 2, 2013 started Tsunami Brazilian Jiu-Jitsu with the help of Perry Hauck located at Lima Tae Kwon Do in Torrance, CA.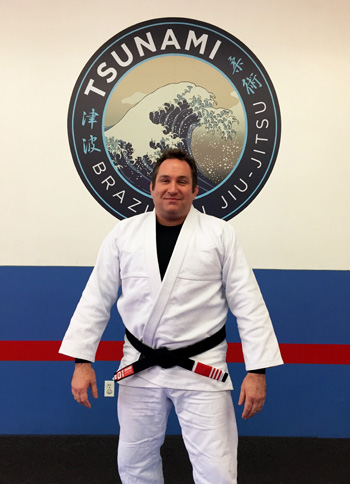 Perry Hauck is a 3rd degree black belt in Brazilian Jiu-Jitsu under Prof. Ricardo "Rey" Diogo of the Carlson Gracie Team.
In addition to Brazilian Jiu-Jitsu, Perry has studied a number of other martial arts & combat sports and holds a 1st degree black belt in Sabaku jutsu (under Prof. Mike Belzer). He is also a Senior Instructor & Instructor Trainer for non-profit Impact Personal Safety. Perry likes to teach all of his classes with an eye towards simplicity and keeping the practical self-defense application of techniques in mind.
As a member of the Rey Diogo/Carlson Gracie Team, he has competed in both B.J.J. and Submission Wrestling, winning Gold or Silver in a number of tournaments. Mostly though, Perry loves sharing this unique grappling art with others.